about NSD EMS
Welcome to new age of education
NSD EMS suites almost every school or educational institution from student admission to student leaving, from fees collection to exam results. It includes many modules with 5 built-in users (Super Admin, Admin, Teacher, Parent and Student) panel.
NSD EMS is an online platform for all schools. A well thought out concept that is specially designed to establish connectivity between school administration, teaching staff, & student's parents.
If you searching for a tools that helps you to manage your school database then you are at the right place.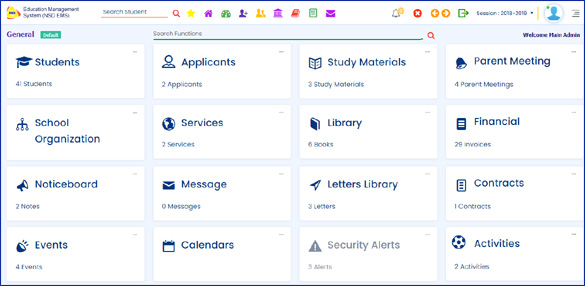 Managing an entire school is not so easy task and there are lots of systems available around that can use to manage strong admission, enrollment, courses, accounts, communication, student monitoring and for others. Why not utilize a complete solution as a single & streamlined platform .
That's why we came up with "NSD EMS education management system".

NSD EMS offers the most ever user-friendly education management system, with alot of features, including admission & course management, online exam, grade books, attendance & leave management, hostel & transport management, ebooks & library management, invoicing, advanced user management with unlimited user roles, mail & SMS management, reports and many more